Green Elephant Kratom
The Biggest Green Vein Leaf In The Jungle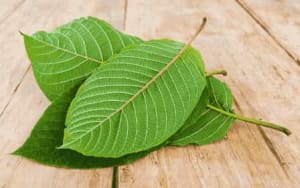 Green Elephant kratom has gotten great feedback from our customers for its reported stimulating nature. Elephant strains get their name from their larger-than-most leaf sizes that often resemble an elephant's ear. This variety is said to be a mild to moderate analgesic and as such may be a good choice for those seeking pain relief.
That said, many find that the energy boost is this strain's most noticeable benefit. You might be able to skip the coffee if you've got the elephant! Green Elephant capsules can be a great way to start the day when you've got a full schedule ahead of you. Those who prefer to create kratom teas will find the powder form easy to work with as it is ground-down all the way to a tiny 40 microns in particle size!
The effects of this strain stick with you around four hours for most. Some like to follow Elephant with Red Maeng Da as a way to wind-down at the end of the day. Those who have been taking kratom for a long continuous period without breaks will probably notice things wearing off sooner than this. Taking some time away from kratom every occasionally helps you maintain a reasonable standard dosage level while still enjoying the kratom effects you desire. For this reason it is also a good way to save some money.
Nausea is not a commonly reported problem with this strain and it seems to be generally tolerated well by most, providing you don't overdo it. All of our mitragyna speciosa tests at mitragynine levels significantly higher than you're likely used to, so start low until you know how it will affect you. Moderation is always key.
IMPORTANT: These statements have not been evaluated by the Food and Drug Administration. This product is not intended to diagnose, treat, cure, or prevent disease.